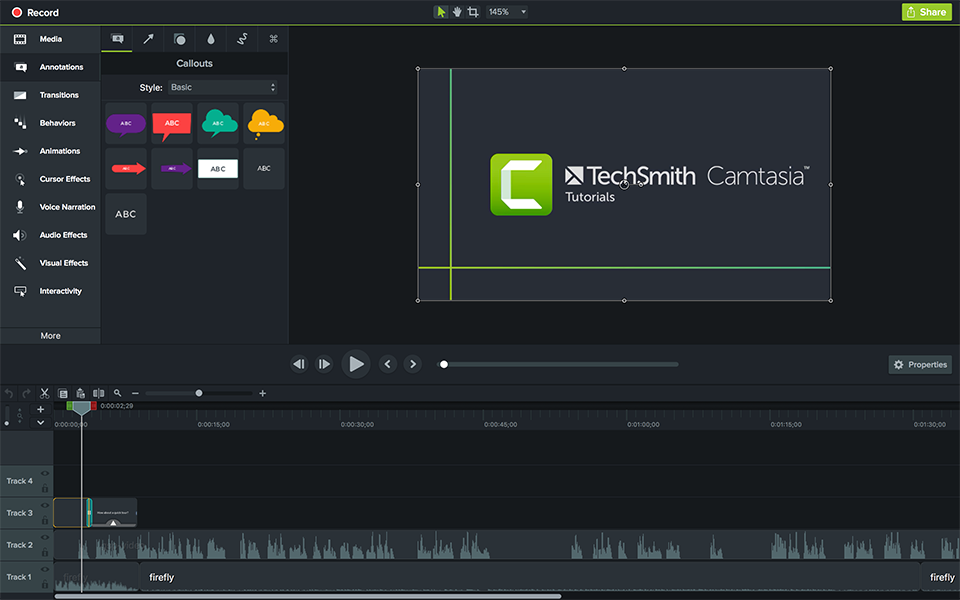 Meet the next generation video presentation and video editing tool: Camtasia
As the Turkey representative of Camtasia, ETGİ Group offers sales, marketing, training and support services for Camtasia products.
Developed by Techsmith, one of the most preferred visual communication companies in the world, Camtasia is among the most comprehensive screen recording and recording editing tools with its professional and practical features.
Create amazing videos with Camtasia
With Camtasia, you can create any type of video you want on your Windows and Mac computers.
With Camtasia's new templates and advanced features, it's easier to create the professional videos you need.
Record the content you want on your computer screen, such as websites, software, video calls or PowerPoint presentations.
Drag and drop text, transitions, effects and more in the built-in video editor.
Instantly upload your video to your YouTube, Vimeo, Screencast or online video training platform.
During recording, you can simultaneously record your voice, image and the media you show on your screen
Depending on your choice, you can record full screen or select a specific area of your screen.
Don't compromise on what you want to do with Camtasia's powerful yet easy-to-use features when creating, editing and publishing your videos.
Tutorial videos, demos and more, 
It's easy with Camtasia
With the advanced features of Camtasia, add sound, automatic date, picture, time, duration, icon and so on during and after recording. Apply drag-and-drop texts, transitions, effects and more through the built-in video editor. If you want more authentic videos, add a personal touch by adding clear video and audio directly from your webcam
Templates and saved settings
With Camtasia, you can create special templates for the videos you make frequently, and shorten the editing time thanks to these templates you have created before. You can share your prepared templates, libraries, themes, shortcuts, favorites and presets in a single file, and save your own custom styles and formats for your favorite uses. These features give you instant access to the tools and effects you use the most.
From presentation to video
You can turn your presentation into video by recording it with the PowerPoint add-in or exporting slides directly to Camtasia. You can add quizzes and interactivity to your videos to encourage learning and assessment. You can also add subtitles to your recordings for audiences who speak different languages.
You can apply device frames to your videos to make them look like they're playing on a desktop, laptop, or mobile device screen. You can highlight, enlarge or soften the movement of your cursor to create a professional and polished look in any video.
Moreover, you can use any image or video you want in the background of the videos you will shoot with the 'green box'. With Camtasia, it's easy to make your videos even more impressive.
With Camtasia, you can reduce background noise, equalize audio levels, add sound points, and much more to ensure high-quality sound in your videos. It is also possible to change the backgrounds to add an extra expressiveness to your videos.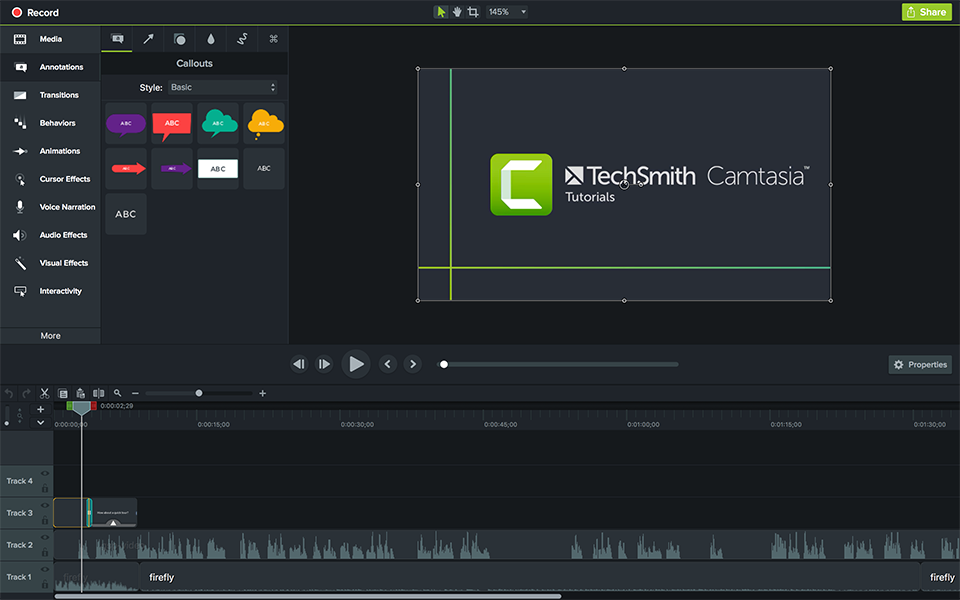 Integrated with different platforms
You can convert your videos that you have prepared with Camtasia to SCORM standard, integrate them into e-learning systems or upload them instantly to platforms such as YouTube, Vimeo, Screencast.
Prepare videos that increase interaction and strengthen the quality of education with Camtasia.
Training videos prepared with Camtasia
Video / Visual Lesson / Video Preparation – Editing Software
Snagit is a screen capture program. The desired screen can be captured in the form of a video or picture, and changes can be made on it.

The recorded image can be viewed via Snagit Editor and saved in mp4 format by making changes to it. This application provides convenience to the user by providing options such as editing and merging for screen capture. The image can be shared via applications if desired.