Camtasia
Video effects that let you draw attention to what's most important.
Help your audience stay focused on all the important parts of your screencasts. Add animations, quizzes, and more to draw in your audience. Then, save elements you repeat a lot, so you can stay consistent across projects.
Callouts – Arrows, cursor effects, keystrokes, sketch motion illustrations, text boxes, highlights, blur, and more–help you get your point across.

Quizzing (PC Only) – Check comprehension with a quiz. Camtasia quizzes are SCORM-compliant, so they'll play nice with your LMS or grade book.

Zoom, Pan, & SmartFocus – Use panning and zooming to direct viewers' attention by showing only what's important. Or, let SmartFocus do the work for you.

Green Screen – Camtasia's chroma key effect removes the background color of any video. Layer it on top of your recording to put yourself right in your video.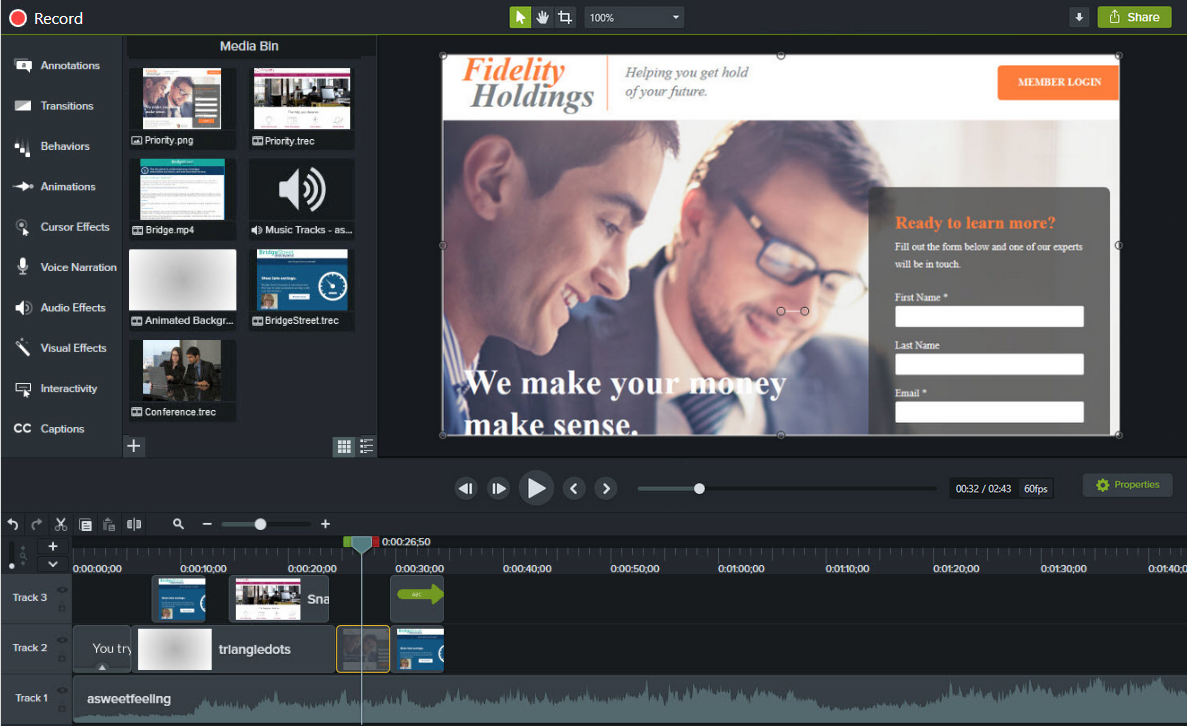 The multi-track timeline expands to fit all your projects. Work on a quick tutorial with tracks for screen content, audio, and callouts or a full-blown product overview with screen video, live action, effects, and multiple audio tracks without missing a beat.
Noise removal and leveling
Use the audio tools to clean up the sound on your screencasts. Remove noise to make really crisp narration, or adjust the levels on any track you'd like.
Split, delete, and stitch
Perfect for getting rid of mistakes. With one click of your mouse, split clips into two, remove portions of a clip, or delete one entirely. And any clips you've split will be stitched together at the cut.
Add ADA-compliant captions to your videos. Camtasia supports both open and closed captioning. Plus, captions can be exported for translation.
Simple and Powerful Screen Capture and Recording Software
Snagit lets you quickly capture a process, add your explanation, and create visual instructions.